Read this PaidViewPoint review before sharing your personal information with them.
I investigated PaidViewPoint carefully
and
Here I will share everything you need to know.
If you are a lazy reader (like me), you can read the 30-second summary of this review.
1. What is PaidViewPoint?
PaidViewPoint is a survey site that pays you for sharing your opinion. It allows companies and organizations to gather consumer opinions in mass.
They have been in business for over ten years, and their parent company – Umongous, LLC – is based in the US. PaidViewPoint is also a part of Ask Your Target Market (AYTM), a market research platform with a history of working with companies like Nike and Samsung.
Here you can see the official introduction video:
2. How does PaidViewPoint work?
Like other paid survey platforms, PaidViewPoint helps organizations with market research.
Through their platforms, companies can offer various surveys and pay users who are willing to share their opinions.
You can create a free account and participate in those surveys to earn commissions.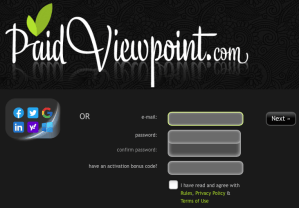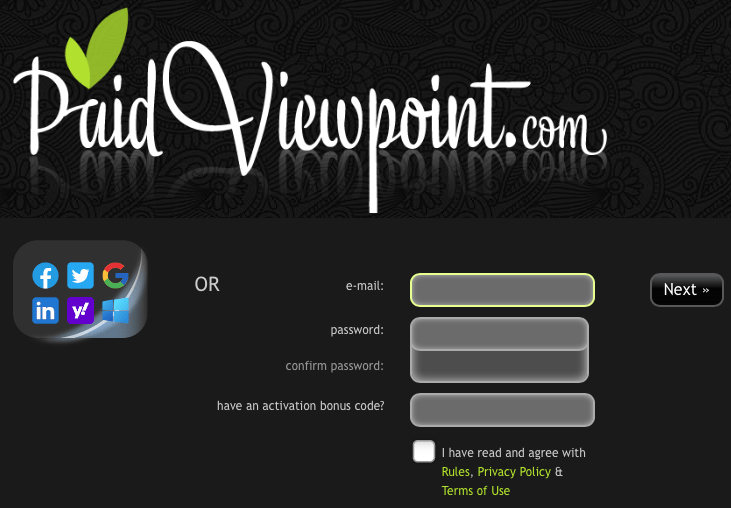 3. Is PaidViewPoint a SCAM?
No, PaidViewPoint is a legitimate website with a long history of working with reputable companies.
On the upside, they ask users for less personal information concerning other survey websites. They also allow users to use a VPN to hide their IP addresses.
However,
You should keep in mind that the money opportunity is meager. You can earn small cash rewards for each survey you participate in, and they are not very frequent.
4. How do you earn money on PaidViewPoint?
You can earn money by participating in the surveys, working as an ambassador, and referring other survey-takers (referral program).
Earn money by taking online surveys
PaidViewPoint.com offers you two types of surveys.
1. Trait survey
According to the official website:
"Trait surveys are small collections of questions that help us get to better know you and your interests. Each collection of trait questions includes repetition of 1 or 2 questions that you already answered within the past few days."

https://paidviewpoint.com/pages/faq
Each member has a TraitScore, which increases by consistently answering trait surveys the same way every time.
Since many people do not read survey questions and fail to give their opinions accurately, the trait score system was invented by the PaidVewPoint team to improve the quality of the market research survey for the companies.
For the users, this reward system allows those who spend more time and complete the surveys more accurately to earn more rewards. In addition, you can earn a small reward of $0.05 to $0.1 for answering each trait survey.
In short
You will have more earning opportunities by doing trait surveys regularly and increasing your trait score.
2. Research survey
These are the primary surveys you can participate in to earn money. On average, each survey has a maximum of 10 questions, which takes you 5-6 minutes to complete and pays you around $0.2 to $1.
These surveys are provided by clients of PaidViewPoint's parent market research company at aytm.com.
Some of the most common purposes are testing new product ideas and seeking opinions about designs like logos, etc.
Members with higher trait scores are offered more income opportunities, and some surveys are available regularly.
Earn money with the referral program.
You can earn some extra cash by referring other survey takers.
In fact
You can earn 20% (up to $25) of the fees of those who signed up using your unique referral link.
These cash rewards will be added to your account once your referrals cash out their earnings.
In addition
Suppose you refer more than 100 valid users. In that case, you will automatically join the VIP community builder club, which allows you to take rewards every time your referrals receive research survey rewards without waiting for them to cash out.
5. What is The Minimum Cashout on PaidViewPoint?
When writing this review, the payout threshold is $15. Members with high trait scores are eligible for lower redemption thresholds after their first redemption.
The second threshold is $10; finally, the lowest point is $5.
According to their terms of service, they can change the threshold for everyone or individually at any time.
6. What are PaidViewPoint payment methods?
You can request a cash out via PayPal once your account reaches the minimum threshold. Your earnings should be arriving in your PayPal account within 72 hours.
7. Is PaidViewPoint worth your time?
No, it is not worth your time.
If you have read any of my previous posts, you know that, in my opinion, doing online surveys is a pure waste of time.
Of course, you can earn extra money in your free time, especially if you enjoy participating in the surveys. 
But
I think your time is worth much more than that. I encourage you to invest your time learning, growing, and eventually creating a passive income stream.
If you are interested in the online entrepreneurial journey, check out our top-rated platform, which is free to join and gives you insights into tremendous online opportunities.
8. PaidViewPoint user reviews and complaints
The parent company – Umongous, LLC – is not Better Business Bureau(BBB) accredited. There are no open complaint cases on the BBB website when writing this review.
On TrustPilot, you can find more than 92 reviews with an average rating of 2.9 out of 5.
On SurveyPolice, with more than 2300 reviews, it is rated almost five stars.
On SiteJabbe, there are more than 25 reviews. It has a rating of 3 out of 5.
9. What are PaidViewPoint alternatives?
Here, you can check out some of the most famous survey sites.
Click on each website to read the complete review:
Summary of PaidViewPoint review?
PaidViewPoint.com offers paid surveys.
It is a legit website.
You can earn money by doing trait surveys(on average $0.05) and research surveys(on average $0.15)
By doing trait surveys, you increase your trait score, and you will have more earning opportunities via research surveys.
The minimum threshold is $15, and once you reach this threshold, you can request a cash out via PayPal (Less than 72 hours)
You can earn 20% of your referrals up to $25 for each
The earning opportunity is minimal, and it is not worth your time.
I hope you enjoyed reading this review. If you have questions that are not addressed in this review or if you find inaccurate information, please contact me.
As always, I encourage you to take the online entrepreneurship path and start your passive income stream. You can read about my favorite program here.
It's an online community that provides you with the tools, training, and support you need to start your financial freedom journey, and you can start with your free lifetime membership.
What do you think about PaidViewPoint?
Have you ever participated in PaidViewPoint surveys?
What do you think about it?
It's your turn to share your opinion and experience with us.