Do you like to earn money while playing Solitaire? Sounds too good to be true?
By reading this Solitaire Smash review, you'll get to know:
Is it a legit opportunity or a SCAM?
Is it worth your time?
How does it work?
…
Let's unravel the truth about Solitaire Smash.
1. What is Solitaire Smash?
Solitaire Smash is a popular mobile game that offers a fresh take on the classic Solitaire card game.
Players can compete in exciting tournaments to win virtual currency or even real money. This app has quickly become a favorite among Solitaire enthusiasts and those seeking a fast way to earn extra cash.


But is it too good to be true?
While the game is listed on the Apple App Store under the developer name "Play Perfect Ltd.," there seems to be no verifiable information about this company as a legal entity.
This lack of transparency raises some concerns.
In the following sections, we'll dive deeper into the legitimacy of Solitaire Smash, exploring potential red flags and whether it's a safe option for players.
2. How Does Solitaire Smash Work?
Solitaire Smash allows players to join tournaments and compete against others at their skill level.
Players can build sequences of the same type of cards in the four foundations and sequences in descending order and alternating colors in the tableau.
The faster you clear the board, the higher your score and the bigger your bonus.
Players can win real money or gems, and the top 3 in the solitaire tournament will receive rewards.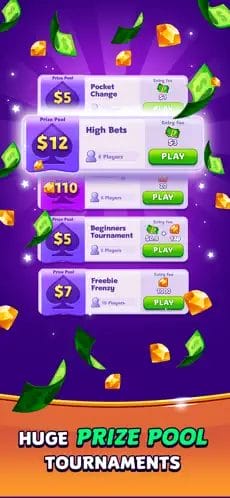 3. Is Solitaire Smash Legit?
The legitimacy of Solitaire Smash is a topic of debate.
In my opinion, it's on the borderline.
While it appears to be a legitimate app, being officially registered on the Apple App Store with numerous reviews and a track record of paying out winners, there are several red flags that you should be aware of:
1. The Company Behind The Game
The developer listed on the App Store is Play Perfect Ltd., but there is no publicly available information about this company as a legal entity. Furthermore, the official website for the game lacks any information about the company's address or other relevant details.
2. Domain ownership
Upon investigating the domain registration for the game's website, I noticed that the domain is registered through a proxy service, and the registrar's information is hidden.
While this practice is common for personal blogs or websites, it raises concerns for a game that claims to offer real money rewards.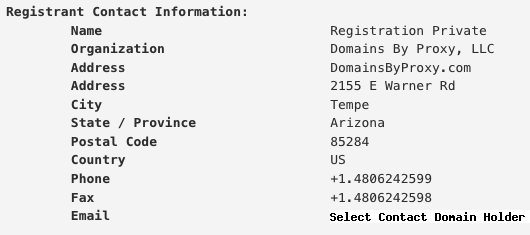 Transparency is key when trusting a company, especially one that handles financial transactions.
3. Developer's History
Play Perfect Ltd. has no other apps or games registered under its name, making it a newcomer to the industry and increasing the risk for potential players.
4. Users Complaints
Numerous user complaints can be a red flag, and Solitaire Smash has its share.
Some users have alleged that the game is rigged and that players may be competing against bots.
4. Is Solitaire Smash Worth Your Time?
In my assessment, Solitaire Smash may not be the best use of your time if you want to earn money.
While it offers an enjoyable and modern take on the classic Solitaire card game, it falls short as a reliable income source.
Here are some reasons to consider:
Red Flags: As mentioned earlier, there are several red flags associated with Solitaire Smash, including the lack of transparency about the company behind the game and concerns about domain ownership.
Rigged Gameplay: Some users have raised concerns about the game being rigged or competing against bots, which could put you at a disadvantage and lead to a cycle of losses.
Minimal Financial Opportunity: Even if the game is fair, the potential for financial gain is limited. It's important to note that playing Solitaire Smash is a form of gambling, and the risks associated with it should not be overlooked.
Better Alternatives: Instead of investing hours into Solitaire Smash for minimal returns, consider exploring more lucrative and rewarding opportunities. Whether it's pursuing a side hustle, learning new skills, or exploring other online money-making ventures, there are plenty of options that offer a higher potential for financial growth.
In conclusion, while Solitaire Smash can be a fun way to pass the time, it may not be the best choice for those seeking a reliable way to earn money.
5. How to Get Paid by Solitaire Smash
To get paid by Solitaire Smash, you must participate in cash tournaments and win. The top 3 players in each tournament will receive cash rewards.
Keep in mind that you must pay the entry fee to be able to participate in the cash tournaments, and you may lose money if you don't score high enough.
You can also earn daily rewards and gems by playing regularly.
What are the withdrawal methods of Solitaire Smash?
Once you accumulate enough earnings, you can cash out through PayPal or Apple Pay.
6. Solitaire Smash Promo Codes for Today
Solitaire Smash occasionally provides promo codes that players can use to gain free entry into cash tournaments or to receive bonus gems.
When writing this review, most promo codes offer a $5 welcome bonus. These codes are often promoted by other players who earn rewards for inviting new players to the game through referrals.
However, given the concerns and red flags associated with Solitaire Smash, I cannot recommend this game. As a result, I will not be sharing promo codes on this page.
If you still wish to find promo codes for Solitaire Smash, you can do a quick online search or check their social media channels for any available offers.
Please exercise caution and consider the risks before investing time and money into this game.
7. Solitaire Smash Cheats
While some websites may claim to offer cheats for Solitaire Smash, it's essential to be cautious.
Using cheats can result in your account being banned, and you may lose any earnings you have accumulated.
Play fair and enjoy the game as it is meant to be played.
8. Alternatives to Solitaire Smash
If you're looking for alternatives to Solitaire Smash, there are several other options to consider. One such option is Solitaire Clash, a well-established real-money solitaire game developed by Avia Games.
For those interested in other cash competitive games, here are a few legitimate options:
Cash Giraffe: Cash Giraffe is a mobile gaming app that allows players to earn money.
JustPlay: A highly sought-after Android app that allows you to earn cash by playing mobile games.
Bubble Cash: Bubble Cash is a Bubble shooting game that allows players to compete for real money.
However, if you want to earn extra money online, there are many other opportunities beyond gaming.
Consider exploring online money-making options such as affiliate marketing, online tutoring, or freelance work. These alternatives allow you to leverage your skills and knowledge to generate a more substantial income.
For those interested in a safe and accessible starting point for earning passive income, I highly recommend checking out my favorite community:
9. Solitaire Smash Reviews and Complaints
When it comes to Solitaire Smash, user reviews, and feedback are a mixed bag. While some players have had a positive experience with the game, others have voiced their frustrations and concerns.
App Store Reviews
On the App Store, you'll find various reviews from players who have tried Solitaire Smash. Some players enjoyed the game and even managed to win cash rewards. However, some players have expressed dissatisfaction with the app.
Common complaints include claims that the game is rigged: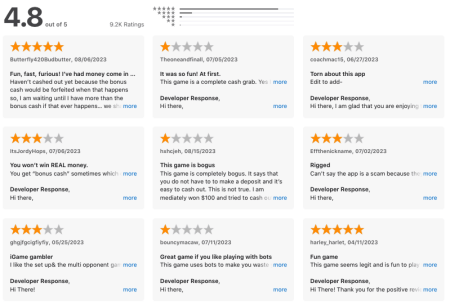 It was so fun! At first.

This game is a complete cash grab. Yes I was able to win a little money out of it being around $80 in total after months. Now?? I can't remember the last time I've actually won an actual cash game, or gem for that matter. This is not a coincidence, either the developers are rigging the game, or people are cheating. There is no inbetween, it's one or the other. The user interface is nice, game is pretty smooth, but again, at the price of you losing a lot of money. I am no amateur, having won games on average at 3:30 on the clock + and there are somehow people getting insane timings of 4 minutes on the clock still or higher. This happens so frequently! After looking at other reviews from other legitimate review websites, many have come to the same conclusion, that there is some rigging involved, or blatant disregard for cheating problems. The amount of 5 star reviews is also so fake it's unreal how Apple even allows this to happen…. There is no way out of all the different websites I went to looking at reviews for this game, on average, being 1-2 stars out of 5 to this many 5 star reviews on Apple Store. Smells like incentive to me, which should NEVER be allowed. If you want a truly fair game with matchmaking that actually skills you against people of your caliber, go to solitaire cash, seriously. They actually care about their reputation as a whole, and it shows.

Theoneandfinall on Apple Store
This game is bogus

This game is completely bogus. It says that you do not have to to make a deposit and it's easy to cash out. This is not true. I am mediately won $100 and tried to cash out but I had to wait for seven days once the seven days were up then I had to get 20 Slot plays. I got the 25 plays then I had to wait another seven days to try to get the funds once the seven days are over I now have to get 40 Slot plays. Talk about a fraudulent game that says it's so easy but I have got enough money to cash out but I have not been able to because of the slot games. I do not recommend this game at all.

hxhcjeh on Apple Store
You won't win REAL money.

You get "bonus cash" sometimes which can be used to play in tournaments, but doesn't go towards a total that could be withdrawn. Allegedly your winnings go straight to the balance that could be withdrawn, but I've had my cash up to $10 a couple times right after winning tournaments where I know over $5 was "my winnings" and still didn't meet the $5 minimum requirement to cash out. It's a fun game! Just don't play it expecting to win a little cash here and there or you'll be disappointed like I was.

ItsJordyHops on Apple Store
Quora Reviews
On Quora, there is a particular review that stands out. An account has been consistently praising Solitaire Smash across multiple threads. However, it's important to note that this account has only posted positive comments about Solitaire Smash, which raises suspicions about the review's authenticity: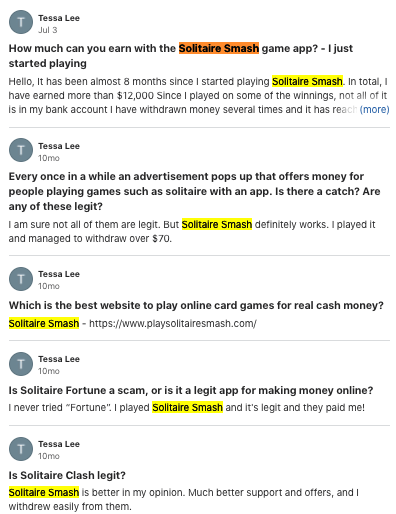 Reddit Discussions
Over on Reddit, the consensus among users seems to be that Solitaire Smash is not worth your time.
In various discussions, users have shared their experiences and opinions about the game, with many agreeing that it's not a worthwhile investment of your time.
10. Tips for Using Solitaire Smash
If you decide to play Solitaire Smash, consider these tips:
Play for fun, not for money.
If you insist on playing for money, set a budget for in-app purchases and stick to it.
Be cautious of cheats and hacks that may result in your account being banned.
Read the rules of the games carefully before participating in cash tournaments.
Solitaire Smash Review: Conclusion
In conclusion, Solitaire Smash is a modern take on the classic Solitaire card game, allowing players to compete for virtual currency or real money.
While it can be an entertaining way to pass the time, it's essential to approach it with caution.
Solitaire Smash is not a scam, but there are several red flags that potential players should be aware of.
The lack of transparency about the company behind the game, mixed user reviews, and concerns about the game's legitimacy all warrant careful consideration.
Ultimately, I would advise against investing time and money into Solitaire Smash. There are many other alternatives available that offer a more solid and reputable gaming experience.
One such alternative is Solitaire Clash, developed by a well-known company.
If you're interested in playing Solitaire for free, a quick online search will yield numerous web-based versions you can enjoy without the risks associated with cash games.
It's crucial to remember that cash games like Solitaire Smash are a form of gambling, and the potential for financial gain is minimal.
Instead of spending hours on Solitaire Smash for limited returns, consider exploring more lucrative and rewarding opportunities that offer better prospects for earning money.
What is Your Take on Solitaire Smash?
I'd love to hear what you think about Solitaire Smash – have you used it before?
If so, what was your experience like?
Feel free to share your opinions and experiences in the comments section below.
---
Name: Solitaire Smash Website: SolitaireSmash.com Owners: Play Perfect Ltd. Costs: Free to play, with in-app purchases for cash tournament
Scam or Legit: Borderline | Is it recommended? No!
---