If you're on the hunt for ways to make money by playing games, you might have stumbled upon the Cash Giraffe app.
But before you jump in, you're probably asking yourself:
Is Cash Giraffe legit?
In this comprehensive review, I'll share everything you need to know about this app.
1. What is Cash Giraffe?
Cash Giraffe is a free Android app developed by justDice GmbH, a reputable German gaming company.


The app offers users the opportunity to earn money by playing new games on their mobile devices.
While the concept of earning money by playing games may seem appealing, it's essential to evaluate the app's potential rewards and drawbacks.
As with any play-to-earn opportunity, the question remains:
is it worth your time?
Let's find out
2. How Does Cash Giraffe Work?
Cash Giraffe serves two main purposes:
For players: It allows you to earn money by playing new games featured in the app. Your active playing time is rewarded with in-app cash rewards, which can be exchanged for real money.
For game developers: It helps new games grow faster by reaching a large database of players quickly. This is a form of advertising for new games, as developers are willing to pay players to try their games, leave reviews, and share them with friends.
Cash Giraffe shares part of its revenue with players based on their active playing time.
Most games are free, but some have in-app purchases.
3. Is Cash Giraffe Legit?
Yes, it is a legit app that pays users for playing games.
It has millions of downloads on the Google Play Store, thousands of positive reviews, and has been around for a while.
justDice GmbH, the company behind it, is a reputable game producer with an active social media presence.
Additionally, the app developer processes user data according to GDPR laws according to their Privacy Policy page.
However, there are some things to be aware of:
The amount you can earn is extremely low, with most games paying between $0.50 and $1 per hour.
Your earnings will decrease as you play longer.
The platform does not have a support team to help you with potential issues.
So, while it's possible to make some extra cash using Cash Giraffe, you're unlikely to become rich from it.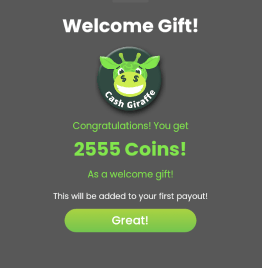 4. How to Get Paid by Cash Giraffe
The app provides four methods to accumulate rewards:
App Earnings: Receive cash rewards by testing new apps.
Game Earnings: Acquire in-app coins by playing games. Your rewards are determined by the duration of your gameplay, calculated on a per-minute basis.
Surveys & Offers: Earn rewards by sharing your opinions and completing online surveys.
Referral Earnings: Benefit from 25% of your referral's earnings when you invite others to join.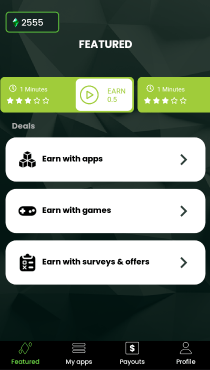 To start earning you can follow these steps:
Download the app from the Google Play store and create a free account.
Earn in-app coins by trying new mobile games and applications (Around $1 per hour).
Earn cash rewards by completing online surveys.
Reach the minimum payout threshold of $5 and request a cash out via PayPal or gift cards.
According to their Terms of Service page, you are also asked to take a selfie before cashing out your rewards.
5. Is Cash Giraffe Worth Your Time?
While Cash Giraffe is not a scam, it's not a reliable source of income either.
Your earning potential is limited, with an average of $1 per hour at best.
If you enjoy playing new games and earning a little extra money, it might be a good fit for you. However, it's essential to consider the opportunity cost of spending hours on the app for minimal returns.
Time is a valuable resource, and it's crucial to invest it wisely.
Instead of spending hours on Cash Giraffe for a few dollars, you could use that time to invest in yourself, learn new skills, or start an online business.
By focusing on activities that provide long-term value and growth potential, you can make better use of your time and maximize your earning potential.
For those looking to earn an income online, consider alternatives like affiliate marketing, online tutoring, or freelance work.
These options allow you to leverage your skills and knowledge to generate a more substantial income, while also providing opportunities for personal and professional growth.
Investing your time in a long-term business that adds value can generate passive income, which continues to grow over time.
If you're interested in exploring these opportunities, you can check out my top-rated program, which is an all-in-one platform that gives you the proper tools, training, and support to start your own online business.
Remember, the key to success is investing your time wisely and prioritizing activities that provide long-term value and growth potential.
So, before diving into Cash Giraffe or similar apps, take a moment to evaluate your goals and consider whether the time spent on these platforms could be better invested in more lucrative and rewarding opportunities.
6. Is Cash Giraffe Available For iPhone?
No. It is currently only available for Android devices.
7. Cash Giraffe Reviews and Complaints
Cash Giraffe has garnered over 80,000 reviews on the Google Play store, boasting an average rating of 4.3 out of 5 stars.
This indicates that a majority of users have had positive experiences with the app.
However, some users on Reddit have expressed concerns regarding the unavailability of PayPal Cashout as a payment option.
Despite this issue, there are no major complaints or red flags surrounding the app.
8. Tips for Using Cash Giraffe
Although I wouldn't recommend Cash Giraffe as a significant income source, if you opt to use it for some extra cash, consider these tips to maximize your earnings:
Frequently check the app for higher-paying games, apps, and surveys.
Promote the app among friends and on social media to benefit from their referral program.
Refrain from investing too much time in a single game, as it may not yield substantial rewards.
Set up a dedicated email address for Cash Giraffe to prevent potential spam from reaching your primary inbox.
By following these suggestions and staying mindful of the platform's limitations, you can approach Cash Giraffe with realistic expectations and avoid falling prey to scams or illegitimate offers.
Cash Giraffe Review: Conclusion
In summary, while Cash Giraffe is a legitimate app that allows users to earn a small amount of money by playing games, it's not a reliable or sustainable source of income.
The low earning potential and diminishing returns over time make it an inefficient way to invest your time and effort.
Instead, focusing on building an online business, such as affiliate marketing, can provide a more rewarding and long-term financial payoff.
By investing your time in creating valuable content and promoting products or services, you can generate a passive income that continues to grow over time.
For those interested in pursuing affiliate marketing or other online business opportunities, I recommend checking out my top-ranked program.
This all-in-one platform provides the necessary tools, training, and support to help you start and grow your own successful online business.
By choosing to invest your time in a more lucrative and sustainable online venture, you can reap the benefits of passive income and financial freedom, rather than settling for the minimal earnings offered by apps like Cash Giraffe.
What is Your Take On Cash Giraffe?
I'd love to hear what you think about Cash Giraffe – have you used it before?
If so, what was your experience like?
Feel free to share your opinions and experiences in the comments section below.