By reading this Lucky Chip Spin review, you'll get to know:
Is Lucky Chip Spin legit?
Can you earn virtual dollars by playing Lucky Spins? 
…
If you're short on time, you can read the 30-second summary of this review.
Do you want to earn passive income online? Read about my top-rated affiliate marketing community.
Here are six things you need to know about Lucky Chip Spin:
1. What is Lucky Chip Spin?
It's an Android game that claims you can win huge prizes by playing coin pusher and slots.
The game is straightforward,
You choose where to drop the coin and earn the fallen tokens as the machine moves.
Your rewards depend on how many green and gold chips you collect.
In addition
Once a chip hits the box, the 3-reel slot machine starts, and if the three symbols are the same, you will earn more rewards.
You unlock the shake button by watching sponsored ads, which lets you shake the machine and collect more chips.
As you may guess
There are more ways to earn fancy prizes.
If you collect 36 fruits in the slot machine, you will earn $1000.
Doesn't it sound a bit cheezy?
Well, it does.
While the big rewards may seem exciting at first glance, practically, they are not achievable.
For example, getting 36 fruits is practically impossible.
2. How does Lucky Chip Spin work?
Lucky Chip Spin Game is designed to be addictive so that you stay engaged. It generates profits from sponsored videos you watch.
It gives you the hope of winning big to keep you playing.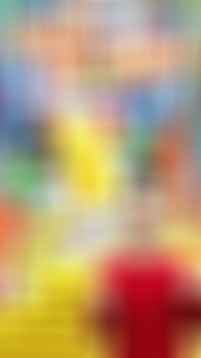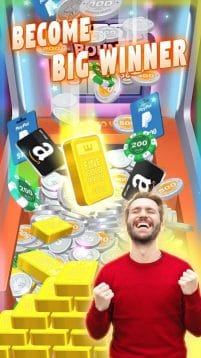 It's the same psychology behind gambling games and casinos.
However
Here, the pot is smaller than in the casinos, and the cashout threshold is so high that it is almost impossible to earn anything.
There is no "Free money," but the concept is so sweet that many people fall for it. Our brain wants to believe there is a shortcut to wealth and success.
We all were in that place where we saw an almost unbelievable outcome, and there was a voice in the back of our heads saying:
What if it is true?
To become successful online, you must confront this reality and avoid this dangerous thought.
3. How do you get paid on Lucky Chip Spin?
You can request a cashout when you earn 300 dollars or more via PayPal.
Seriously
Do you think you can earn hundreds of dollars by shaking your phone and earning virtual tokens?
This strange high minimum threshold is a vital sign that you will not be able to earn a single $1 with Lucky Chip Spin.
So
It would be better to stay off it and not waste your time.
4. Lucky Chip Spin reviews and complaints
In this Reddit post, many users complain about wasting their time, never receiving any money, etc.
Here, you can read a thread where people share how they didn't get paid: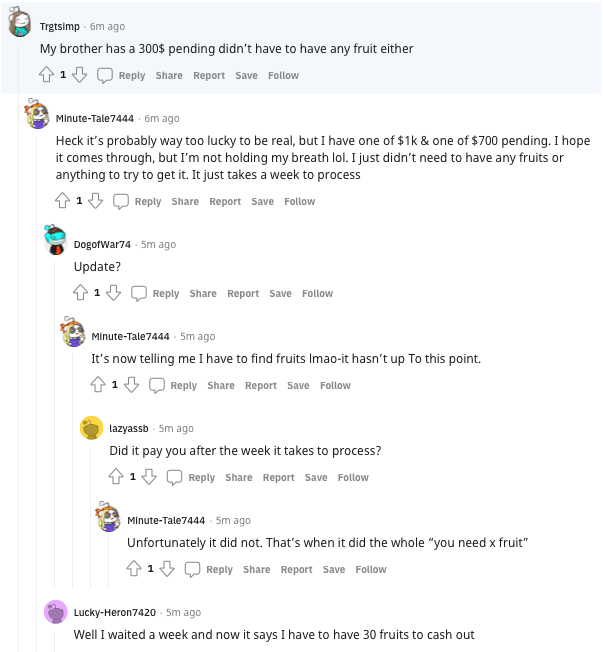 In this Quora post, users doubt if Lucky Chip Spin ever pays a user.
From what I have seen, I'm not surprised by the negative reviews, and I hope you don't fall into it.
so
5. Is Lucky Chip Spin Legit?
It's hard to call it a SCAM because they have a working game.
You can download the game from the Google play store.
But
It's undoubtedly not a genuine app.
It promises you big rewards while it only wastes your precious time.
Another red flag is that
according to the play store, it is developed by a group called "Slot Game Developer". Their profile shows that they haven't created any other application, and it is hard to find any information about them.
Finally
When you install an application on your Android phone, you give specific permissions that might be dangerous for your phone and personal data.
To conclude,
It's better to avoid Lucky Chip Spin than waste your time or risk losing money.
but
6. Is there any legit game app that pays real money?
What sounds too good to be true probably is not valid.
Remember,
There is no legitimate way to generate wealth by playing arcade games. You can play them for fun, though.
Making money online requires time and effort to learn, build a solid foundation, and keep up with the latest trends.
Do you wonder how?
Click on the button below to learn about our favorite program, which gives you the training, tools, support, and resources you need to start your online business.
Summary of Lucky Chip Spin review
Here is the summary:
The Lucky Chip Spin is a game that claims you can earn huge prizes
The minimum payout is extremely high  ($300)
It's a shady app, and most probably, you make nothing with it
It's safer to stay away from it and not download it in the first place.
While those fancy green and golden chips seem exotic, they're just an incentive mechanism to hook you in.
Real financial success lies in earning passive income.
It allows you to spend more time on what you are passionate about.
But
It's not something you would achieve overnight, as it requires knowledge, effort, and real action.
If you are willing to take action, click here to read about a community that gives you the tools, training, and support to start your own online business.
What do you think about Lucky Chip Spin?
Have you planned the Lucky Game?
Do you have any experience with cash app games?
Feel free to leave your comments and questions below.