In this Papaya Gaming review, you'll read about the following:
Is Papaya Gaming legit?
Can you win real money with their games?
…
You've found the right place for those of you who've come across their popular titles on the App Store and wondered about their backstory.
Stay with me as we journey behind the curtain of Papaya Gaming.
Let's begin.
What Is Papaya Gaming?
Papaya Gaming Inc. is a gaming company from Tel Aviv specializing in mobile games that offer tournament-style play with potential cash prizes.
Founded in 2019, several of their games have gained recognition in the Casino section of the App Store.
Games like Bingo, 21, and Solitare with a twist of adding cash tournaments to them. With the addition of gambles to their games, you may wonder if it is a scam or if it actually pays.
Is Papaya Gaming Legit?
The short answer is yes.
Papaya Gaming Inc. is recognized as a reputable company in the gaming industry.
Here's why:
They have several games on the App Store, each with millions of downloads and numerous reviews.
They're proactive, updating their games consistently.
User feedback? They're on it, always responding to comments and suggestions.
Legally, they're all set – they're a registered company and open about where they're located and how to reach them.
For a more in-depth review, check out Papaya Gaming's LinkedIn page.
Their active presence on social platforms like Instagram, with over 12k followers, further showcases their engagement with the community.
Papaya Gaming Lawsuit
When writing this review, Papaya Gaming has no active lawsuits, and their games remain available on the App Store.
It's worth noting that Apple faced some legal challenges related to Casino section games in certain states a while back. However, those cases have since been resolved.
For those residing in Arizona, Iowa, Louisiana, or South Carolina, it's essential to know that Papaya's games aren't accessible in these Prohibited Jurisdictions.
Additionally, their card-based games are off-limits if you're in Indiana, Maine, or Montana.
Payapa Gaming Games
Papaya Gaming offers a curated selection of games exclusively available on the App Store for iOS users and the Samsung Galaxy Store for Android users.
Each game provides an option for free play or the added excitement of real-money tournaments.
If you opt for the latter, remember there's a ticket price for tournament entry, with potential rewards in cash or gems, their in-game currency.
21 Cash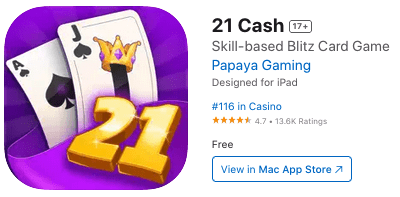 This game cleverly combines elements of solitaire and blackjack. The objective? Skillfully stack cards to achieve the magic number 21, all while racing against the clock. Its design and mechanics cater to casual gamers and those seeking more challenge.
Bubble Cash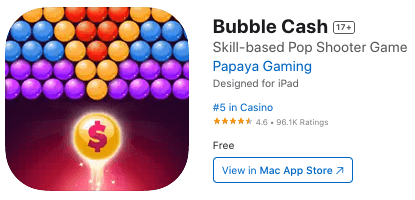 Beyond the simple joy of popping bubbles, Bubble Cash introduces a strategic layer. Players must quickly match colors, but success hinges on planning and foresight, making each round a unique puzzle.
Solitaire Cash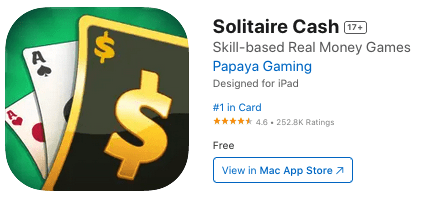 A fresh take on a beloved classic, Solitaire Cash retains the familiar gameplay but introduces new mechanics that can lead to real-money rewards. It's solitaire, as many know and love, but with an added dimension of strategy.
Bingo Cash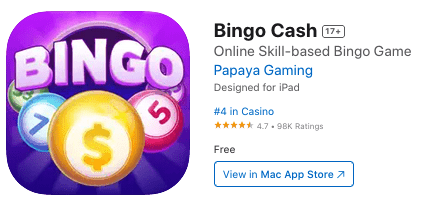 Bingo Cash offers the traditional Bingo experience with a competitive twist. Players can match their skills against others, aiming to complete their cards efficiently while navigating the game's challenges.
Remember:
Engaging in cash tournaments within these games is akin to gambling. Approach with caution and be mentally prepared for both victories and setbacks.
Can You Make Money With Papaya Gaming's Games?
No, you cannot!
While it's possible to win cash tournaments and pocket a few dollars, it's equally likely to face losses.
Here are a few points you need to consider:
Cash tournaments equate to gambling.
The enticement of games can be strong, and when gambling elements are added, the pull can become even more vital.
Falling into a cycle of playing to recoup losses can lead to a spiral of increasing losses.
If you're playing for sheer enjoyment, that's great! Just ensure you're only spending what you're comfortable parting with.
In conclusion, these games are not the best avenue to generate extra income.
Seeking Online Income Opportunities?
Relying on gaming might not be the most dependable choice.
Instead, consider exploring other online avenues like affiliate marketing, blogging, video content creation, or tutoring.
Papaya Gaming Review: Final Thoughts
In the expansive realm of mobile gaming, Papaya Gaming has carved a niche for itself, especially with its notable presence in the App Store's casino section with millions of downloads.
While the prospect of winning real cash is enticing, it's crucial to remember that these games are primarily for entertainment.
Focus on enjoyment if you choose to get into Papaya Gaming's games. Consider any winnings as a bonus, adding to the overall gaming experience.
What Do You Think About Papaya Gaming?
Now that you've got the lowdown on Papaya Gaming, I'd love to hear your thoughts.
Have you played their games?
What was your experience like?