By reading this Wolf-Points.com Review, you'll get to know:
Is Wolf Points legit?
Can you earn $500 per day by using social media?
….
Do you have any of these questions in mind?
Then, you're on the right page. Keep reading to find out the truth.
If you're short on time, you can read the 30 seconds summary of this review.
Here are 7 things about Wolf Points that will shock you:
1. What is Wolf Points?
Wolf-Points.com is a website that claims you can earn money just by using social media and referring your friends and followers.
While it tries to position itself as an Influencer Network, it's just a pyramid scheme.
You can find a calculator that tells you how much you can earn with Wolf Points based on the number of your followers.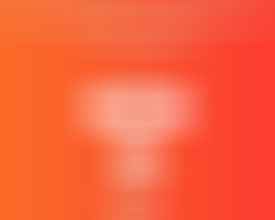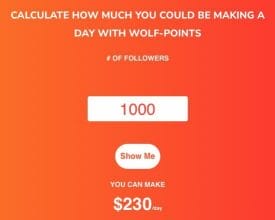 It estimates you can make $230 per day if you have more than 1000 followers!
That's impossible and far from reality. It's fake, and it will never pay you.
Keep reading, and I will explain why I think it's an obvious scam.
2. How does Wolf Points work?
Wolf-Points.com claims you can earn money by promoting it on your social network.
According to their website, you can earn $50 just by joining their site, and then you will make an additional $20 for every person you invite via their referral program.
They promise you can cash out your earnings instantly through CashApp, PayPal, Bitcoin, Wire, and/or Mailed Check without any fees.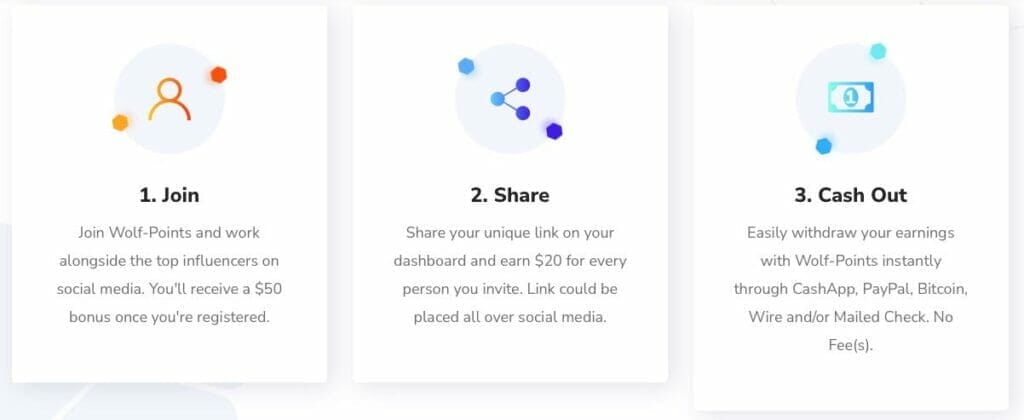 Sounds too good to be true?
You're right.
Almost all scam websites promise you big rewards for doing nothing. Unfortunately, many people fall for them.
Next, I'll explain why I think Wolf Points is fake.
3. Is Wolf-Points.com legit?
No, Wolf-Points.com is a SCAM.
Here's why:
It's a pyramid scheme that promises high income without any value behind it. It's simply impossible to achieve this, and any website offering you such high earnings without a real product behind it is a SCAM.
Their address information is fake, and no such thing as Wolf-Points Ltd exists.
They don't have a social media presence, and all social media links at the bottom of the site are fake. They point to the official websites. For example, the Facebook icon is linked to facebook.com instead of their Facebook page: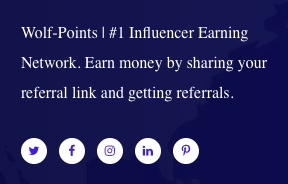 They registered their domain through a proxy service called domainsbyproxy, trying to hide their identity in every possible way!
The privacy policy link on the registration page is broken.
The terms of service page is a template, and they haven't even changed the site's name. As you can see, they copied the content from another website named CloutBux: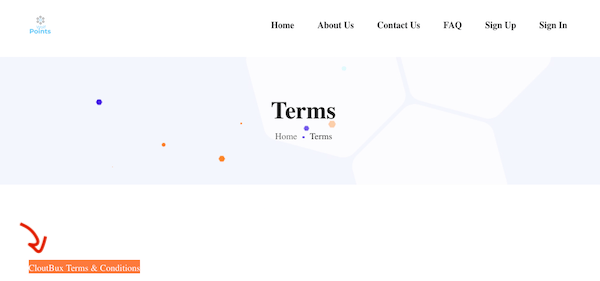 We are dealing with an evident scam here, and you'd better stay away from it to keep your information safe.
4. Wolf Points payments proof
Wolf Points has no payment proof because it's a scam, and it won't pay you.
5. Is WolfPoints worth your time?
No, it is not.
It's a pure waste of time, and worst than that, it's a scam.
Stay away from it and be safe.
6. WolfPoints reviews and complaints
There are no profiles on reputable review sites like TrustPilot and Better Business Bureau.
I also couldn't find a Reddit thread.
But in this Quora post, some users are complaining that WolfPoints is a scam and it never pays.
7. How do you sign up on Wolf-Points.com?
Please consider that Wolf-Points.com is a scam, and I strongly suggest you avoid signing up on this website.
You can register using your email address
but
While it may seem safe as it doesn't require your credit card information, you may become a target of future attacks if you provide them with your email address.
That's how harvesting scams work. They gather lists of email addresses and personal information so they can use these lists for phishing attacks.
As a rule of thumb, never submit your personal information like name and email on websites you don't trust.
Summary of Wolf Points review
Wolf-Points.com is a pyramid scheme claiming you can earn money by referring other members.
It's a SCAM
Their address is not valid
A domain proxy service hides their website identity
Their privacy policy page is broken
Their social media links are fake
Easy money doesn't exist, and Wolf-Points is a scam looking after your personal information.
Usually, scammers use the databases gathered through these websites for phishing attacks.
If you are serious about earning passive income online, you can check out legit opportunities.
My favorite program is a community that provides you with the training, tools, and support you need to start your own online business.
You can start by creating a free account:
Create Your Free Starter Membership
Keep in mind that, creating an online business requires time and effort. You need to take action to see results.
Do you think that you are not ready to create a passive income stream?
You can earn extra cash online by doing online tasks like taking surveys on Get-Paid-To (GPT) websites.
Not all of them are legit, but you can find legit platforms with a quick search. However, keep in mind that the earning opportunity with these sites is minimal.
What do you think?
Have you ever signed up on Wolf-Points.com?
What do you think about it?
Feel free to share your thoughts and opinions in the comments.