Name: Survey Junkie
Website: surveyjunkie.com
Owners: Blue Media Ventures, Inc.
Costs: Free!
LEI Rating: 4.1 out of 5      |      Scam or Legit: Legit!      |      Is it recommended? No!
---
What is Survey Junkie? Is it a real business opportunity or is it another nasty scam? Is it safe to join their network? Let's expose the truth behind this survey site.
What is Survey Junkie?
It is a famous survey site owned by Blue Media Ventures, Inc. They have started their business more than 10 years ago.
You can earn money and get paid by doing online surveys at their website: surveyjunkie.com.
Their service is limited to residents of United States, United Kingdom, Australia, and Canada. It is free to join. If you are older than 18, you can create an account, log in to your account and start doing online surveys.
Like other survey sites, your earning potential with Survey Junkie is very low. You can usually earn 0.5$ to 3$ per survey and each survey takes between 10 to 30 minutes of your time.
If you want to earn an income online take a look at our all-time favorite program where you can start your own online business for free and generate a passive revenue.
Is Survey Junkie legit?
Survey Junkie is not a scam. It has been around for a couple of years and there is nothing suspicious regarding their business.
Recently, they have improved their system that is a good sign and there is no major unsolved complaint about them.
So, is it safe to use it?
Yes, it is safe to some extent. The only concern is the possibility of misusing your personal information.
Therefore,
I strongly suggest to create a new email address and use that one for completing surveys.
Generally, I recommend not to use your personal email address nor your phone number on any kind of survey sites.
Sometimes they bombard you with too many offers that can be really annoying.
If you take a close look at their privacy policy, you can see that they can share your information in connection with a partial or total sale of their asset which is a little bit concerning because you never know who is going to buy their assets.
On the other hand, their privacy policy may change over time.
All in all, to stay on the safe side, DO NOT SHARE YOUR PERSONAL EMAIL NOR PHONE NUMBER WITH THEIR SURVEY PARTNERS.
Here, is a snapshot of their third-party sharing rules in privacy policy section:
Is Survey Junkie a real opportunity?
No. You can earn a few dollars in your spare time but you can not rely on it as your second source of income.
The money you earn doing online surveys can never pay your bills.
Survey Junkie reviews and complaints
More than 1,800 Survey Junkie reviews are submitted on TrustPilot at the time of writing this review.
86% of those are 4-star and 5-star reviews.
Here you can see a few of the recent user reviews on TrustPilot: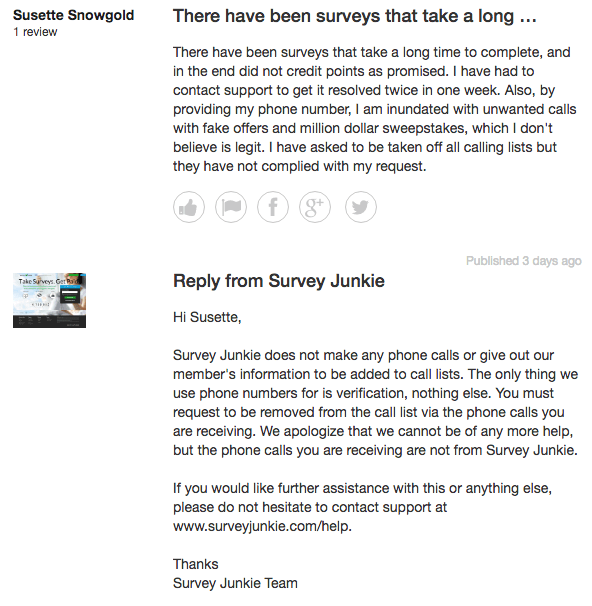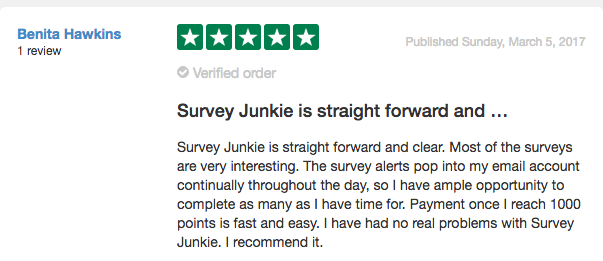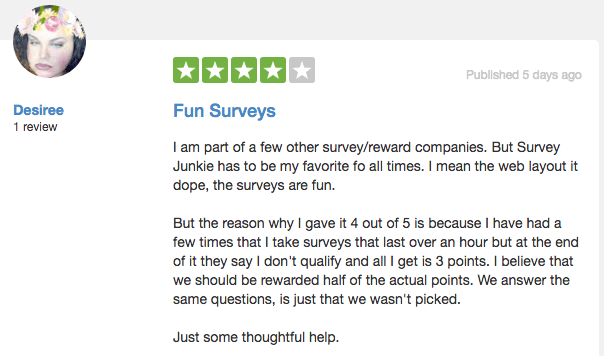 Survey Junkie has been able to create a buzz in the survey world yet at this time I was not able to find major complaints about them.
Only 3 complaints have been submitted to Better Business Bureau (BBB) and 2 of them have been resolved so far.
Our conclusion of Survey Junkie review
Let's summarize the facts:
Survey Junkie is a legit business
They have been in the business for rather a long time
You can earn a few dollars doing online surveys for fun but you cannot earn an income
I do not recommend it
If you insist on using their system, create a new email and use that one when joining surveys
So,
Besides the fact that it is a legit business, it does not worth your time! Period!
I believe that:
Doing online survey is a waste of time!
It is not wise to spend your precious time on doing surveys for small prizes.
Instead,
You can invest your time in creating a business that earns you passive income.
That's the smart thing to do.
To build a business once and generate an income for your life.
If you look for a reliable way to earn money online you can check out our favorite program here:
Check Out Our Top-Rated Program Here
Your turn
Did you find this Survey Junkie review helpful? Have you ever had an experience with SurveyJunkie.com or other survey sites?
Share your thoughts and stories with us. I value them so much.
As always, if you have any questions, ask in the comments! I will be more than glad to answer.
Don't forget to share our reviews with your friends. Let's make the internet a safer place.
Talk soon,
Ash